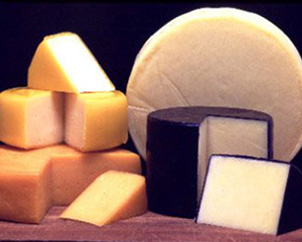 Hmmm....
In speaking of cheese, which I do often, I recently had a crazy idea! How much fun would it be to sample all of the cheeses that have ever been created!! So, googled "varieties of cheese" on google and stumbled upon a massive list of world renowned cheeses. Bummer. I suppose I shall have to modify this idea. Whereupon I decided that it would be just as delicious an experience to try all of the British cheeses. Pardon me as I pause to savor this mouth-watering thought....
Since the moment I saw the ritz cracker commercials with the moon as a big blob of cheese I have very much enjoyed the dairy delight. Wallace and Grommit have also contributed to my desire to taste of Britain's fromage. Whenever I meet someone who dislikes cheese I think of Wallace saying to Wendolene, after hearing that she can't stand cheese, "not even Wensleydale?" with such complete disappointment (to all my friends who don't like cheese, I still love you!). I have been fueled in my palate for cheese by friends like Ali and TT (The former goes to Lori's and the boys automatically know that she wants cheese; the later taught Ethan how to say cheese as on of his first words!!) These two I would dub my fellow cheesies (as in a more specific category of "foodies") and I think will gladly take part in my tasty goal! Others like Mom, Angela and Ruthie also share a fondness for cheese.
There's not much else like a nice hunk of sharp cheddar cheese on Carr's crackers.
Anyway, just a thought.....
This week's question: 
Do you like cheese or are you a Wendolene? If so what kind? If not, what is your foodie favorite??